Student Success
Comments from past students that have enjoyed the opportunities the program has to offer.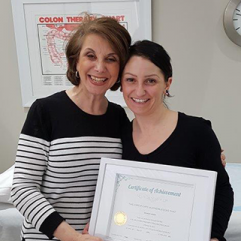 Beverley Moore
Toronto, Ontario, Canada
I am so happy I found this course and had the opportunity to learn in a well-organized environment with a focused and interesting teacher. Mary truly provides gold standard training for Colon Therapists.
Thank you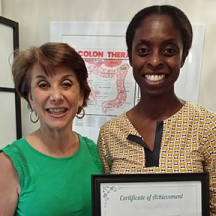 Hollace Burnett-Simmonds
Oshawa, Ontario, Canada
I knew what colonics were all about, but I was not quite prepared for the fun and energy that I would experience from being trained by Mary Taylor. Thank you for all that you pass on to us. I especially appreciate the open and innovative approach to something that is considered less than glamorous.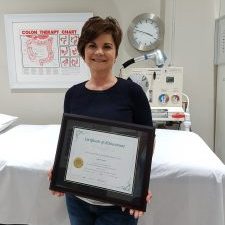 Deb Ottenbreit
Saskatoon, Saskatchewan, Canada
Your passion and enthusiasm were helpful in my learning. I gained the confidence to step forward as a Colon Hydrotherapist. The experience and shared stories of past treatments helped in seeing the broad spectrum of what we need to educate and help people.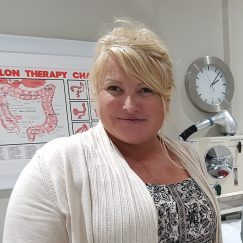 Grechen Carlson R.N.
Vancouver Island, British Columbia
I found the organization of the material made the course flow. The hands-on experience allowed for more confidence and comfort with providing a variety of clients and conditions with treatment. I am so very delighted with the information covered in this course. Thank You!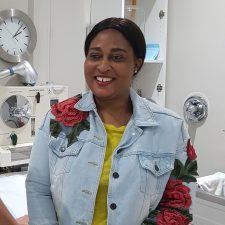 Daisy Sanjase
Edmonton, Alberta
The wealth of knowledge from your experience was one of the most important aspects of the course, the scenarios, the guest speakers, product knowledge. Your passion in colon hydrotherapy was everything. The way you interact with your clients was great!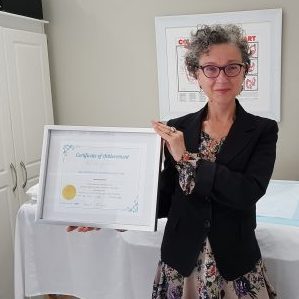 Marinela Dantcheva
Toronto, Ontario
Very informative and well-organized course with lots of practical experience. I feel everything that I needed to know was covered and all my questions were answered. Lots of experience real-time and knowledge of the industry in Canada.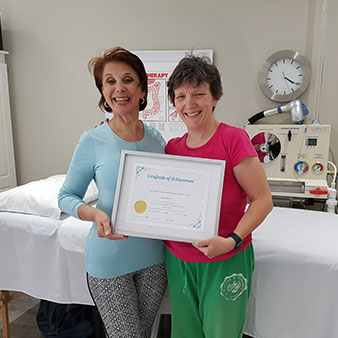 Aranka Shkolnikov
Winnipeg, Manitoba
Great place to learn about colon hydrotherapy. I got tons of practical, hands-on colonic time with a friendly and very knowledgeable instructor, Mary. I feel confident to start my own colonic studio, knowing that Mary will support and encourage me on my path. I highly recommend this school to learn the ins and outs of this healing modality.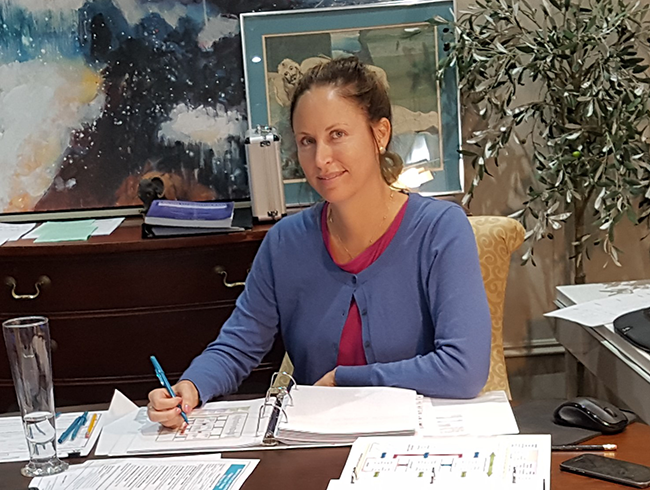 Stephanie Geluk
London Ontario 
Mary was very thorough with her instructions and answered every question so that I understood without doubts. I loved Mary's personal stories of her beginnings as a colon therapist.
This course manual is loaded with valuable and pertinent information that would have taken years of research to put together had I gone about it myself. This will be my bible for many years to come! I am so grateful for this experience.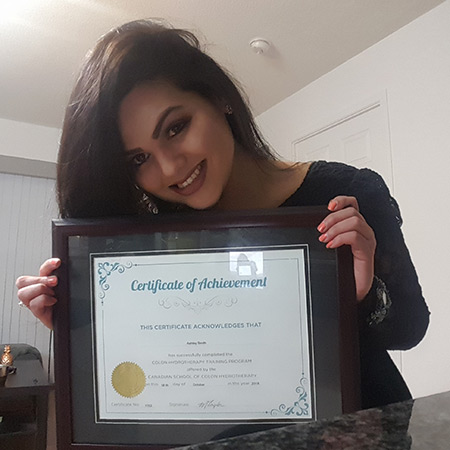 Ashley Smith
Toronto, Ontario
The Canadian School of Colon Hydrotherapy was one of the best experiences of my life. Not only did I learn information to improve myself, I learned how to help others. Mary is very knowledgeable and very passionate. I know I have been taught by the best!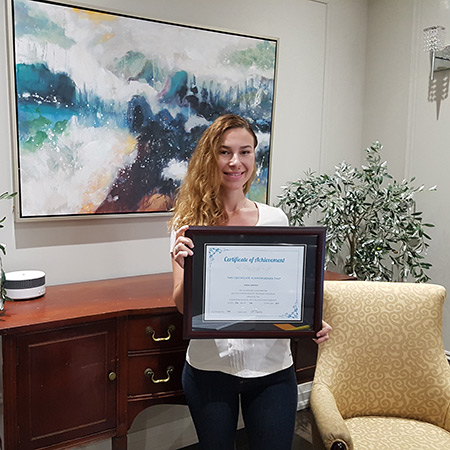 Kristina Datcheva
Oakville, Ontario
Mary is the best teacher anyone could ask for. I highly recommend this course if you want to learn the best practices and standards in colonic procedure, hygiene, and bedside manner. I got a lot of practice with real clients - something other schools lack and I feel confident in applying everything I learned. Canadian School of Colon Hydrotherapy is the only one I would trust for my training."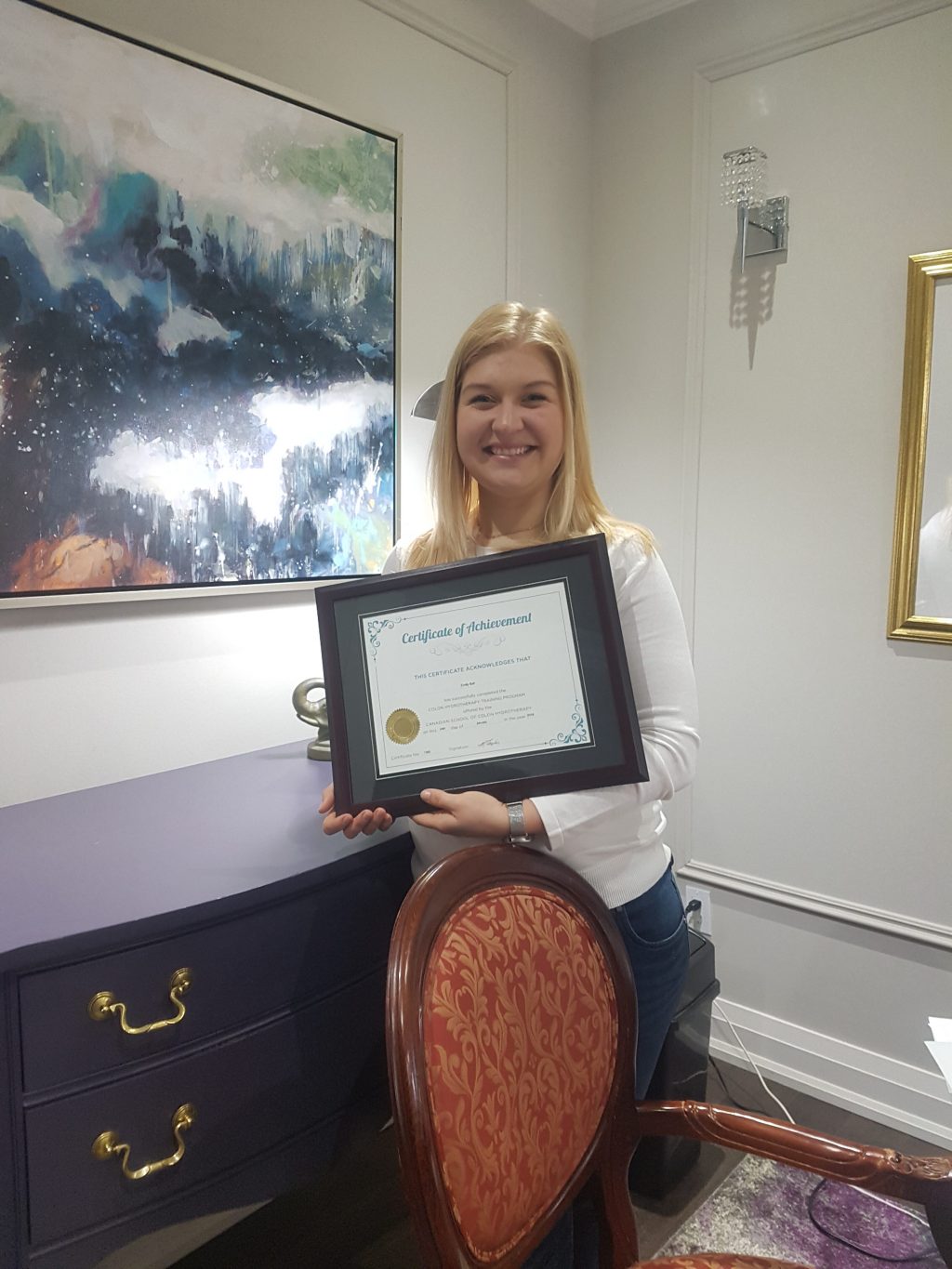 Emily Bell
Toronto, Ontario 
Mary's knowledge and life experience have allowed her to produce a course that is second to none.  Her professionalism, compassion and qualifications make her a great teacher and role model. She is a great mentor and I'm so grateful I found her. Mary answered all my questions and taught me things I didn't even know I had to know. Thank you for amplifying my knowledge of the importance of colon health.
Emily Bell, Toronto, Ontario
(Naturopathic Intern until April 2019, Graduate of CCNM after April 1, 2019 and ND a-in October of 2019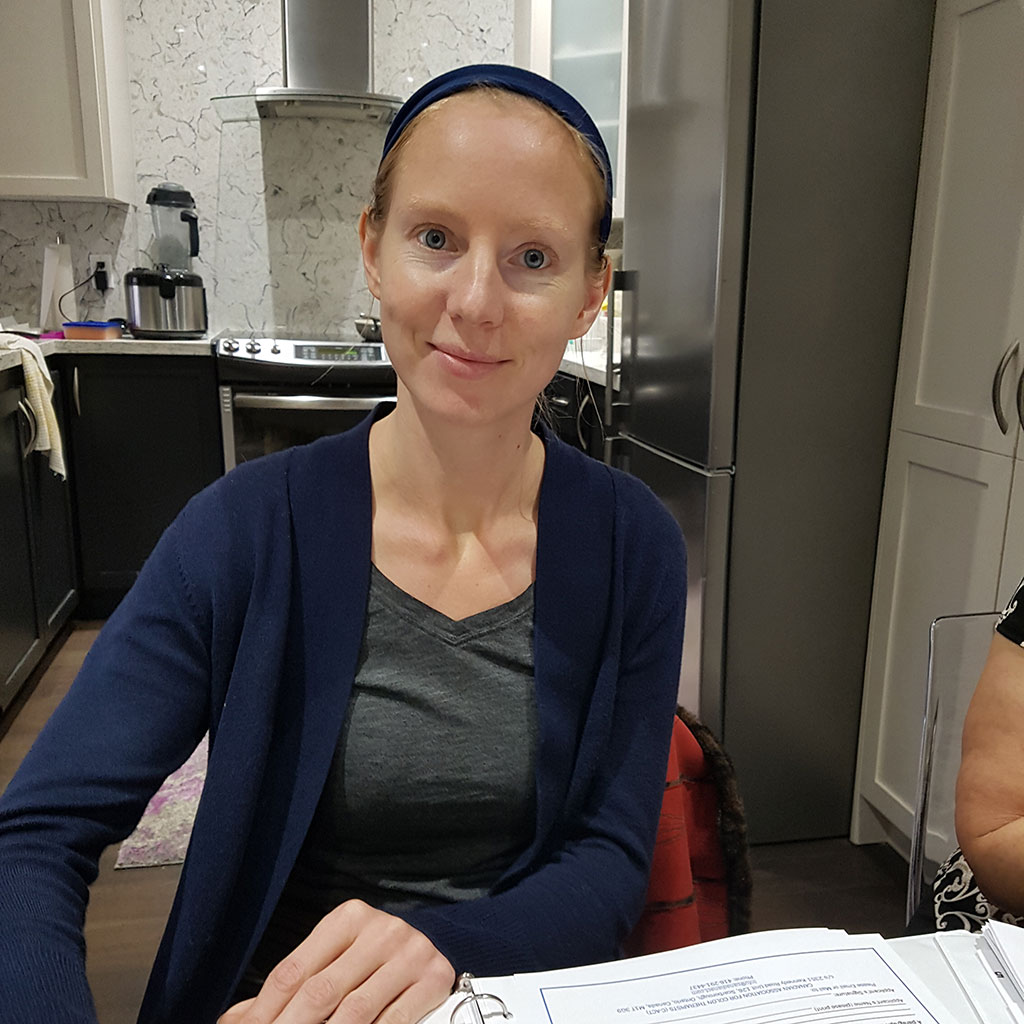 Sara Wiebe
Windsor, Ontario
The course was very good! I had a lot of hands-on training and knowledge of the digestive tract.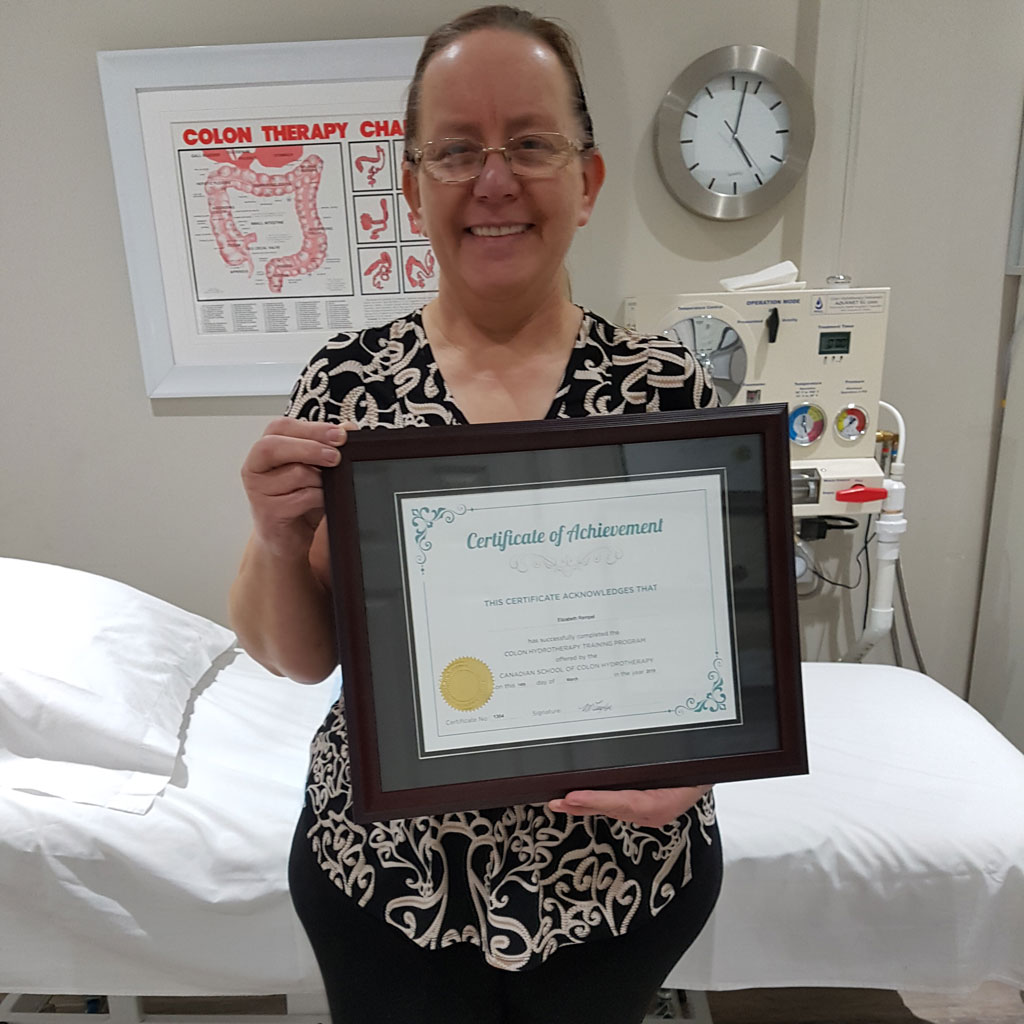 Elizabeth Rempell
Windsor, Ontario
I enjoyed this colon hydrotherapy course. I learned so much and the whole class is very good, I am glad I went to Mary she is an amazing teacher,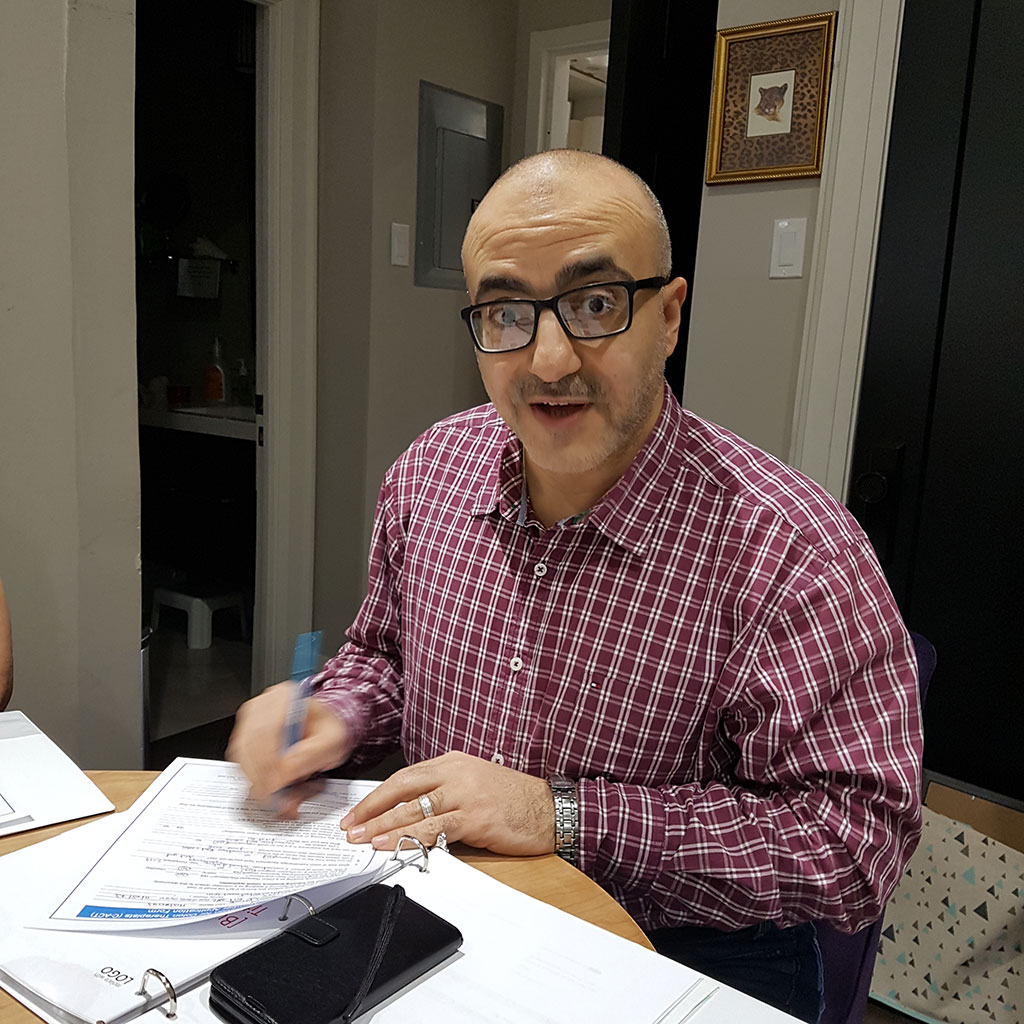 Mohamed Mahrous
Ottawa, Ontario
IMG (International Medical Graduate) Cairo, Egypt
School of Infectious Disease (U.K.)
The course is perfect as it covers everything needed for the career of colon therapy. The material is perfect well shown and organized. The practical part is very good giving the participants sufficient skills and confidence to start their career in a short time.
Brittany Matthews
Mississauga, Ontario
"I thought it was great! Very thorough and your personal stories about real clients made the experience more "human" All of the clients we had were amazing.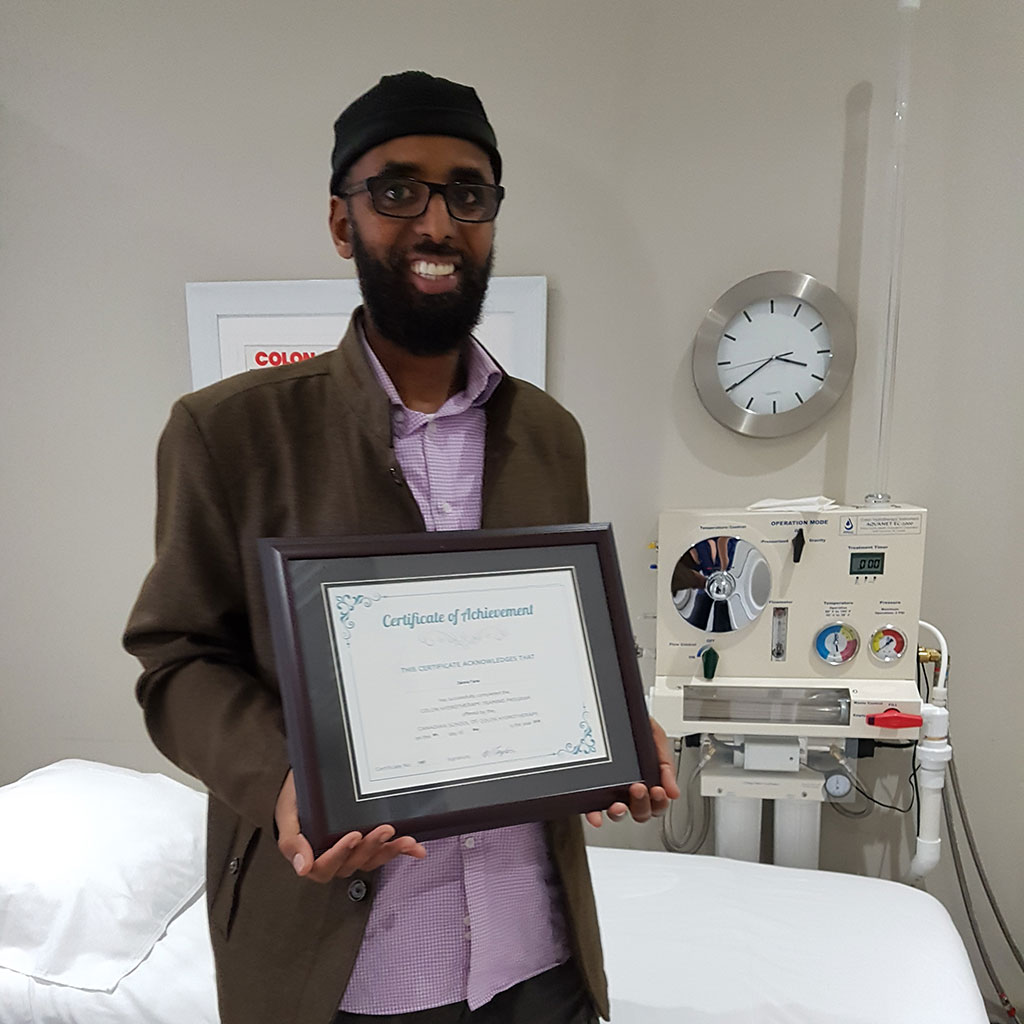 Zakaria Farax
Toronto, Ontario
My experience for Canadian School of Colon Hydrotherapy was the best I could ask for. The teachers are amazing, facilities are excellent and the overall, content and practice were excellent. very informative & the information was laid out clearly with lots of practical experience. It definitely kept me interested & engaged during the course.
THANK YOU, Mary Taylor more than I can say,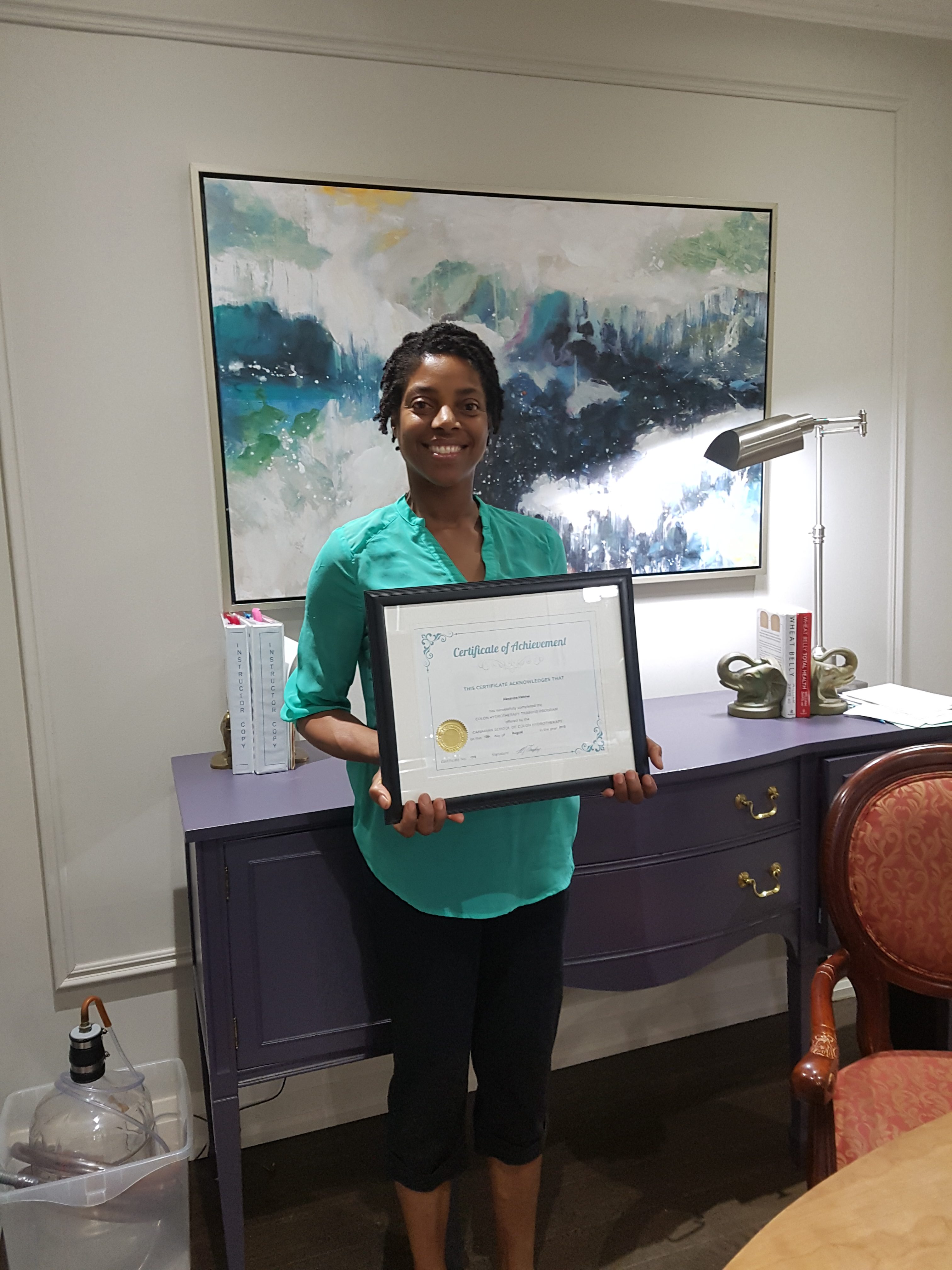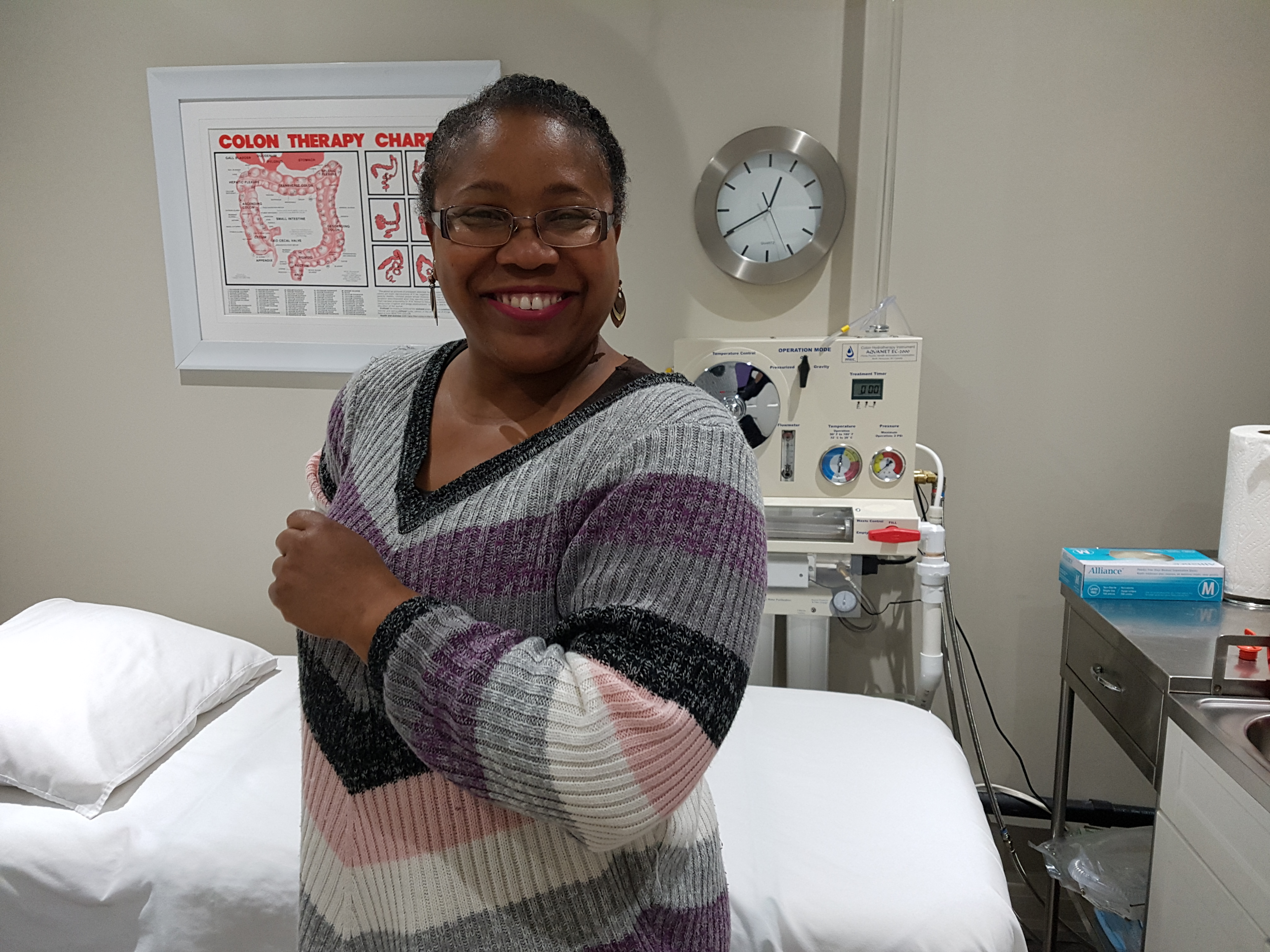 Felishia Iwenjiora
Rochester, New York
I learned so much working with Mary. She addressed all of my insecurities. She is very clean, addressed questions right away. She is energetic and extremely knowledgeable about this field. She is a top-notch professional at all times, yet she is down to earth.
Felishia M. Iwenjiora, Rochester, New York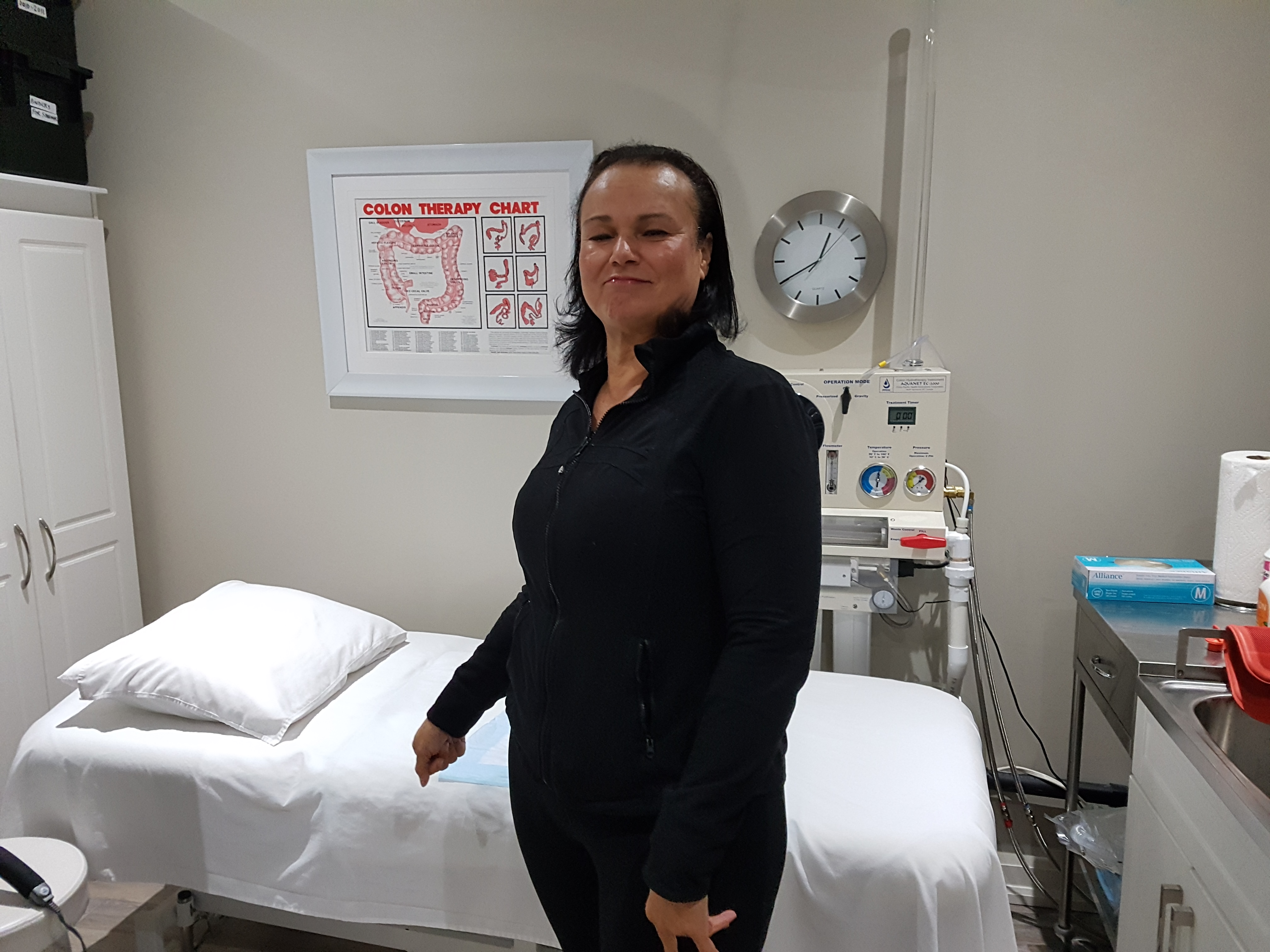 Regina Washington
Ohio, U.S.A.
Thank you very much for a life-changing experience
Regina Washington, Ohio, U.S.A.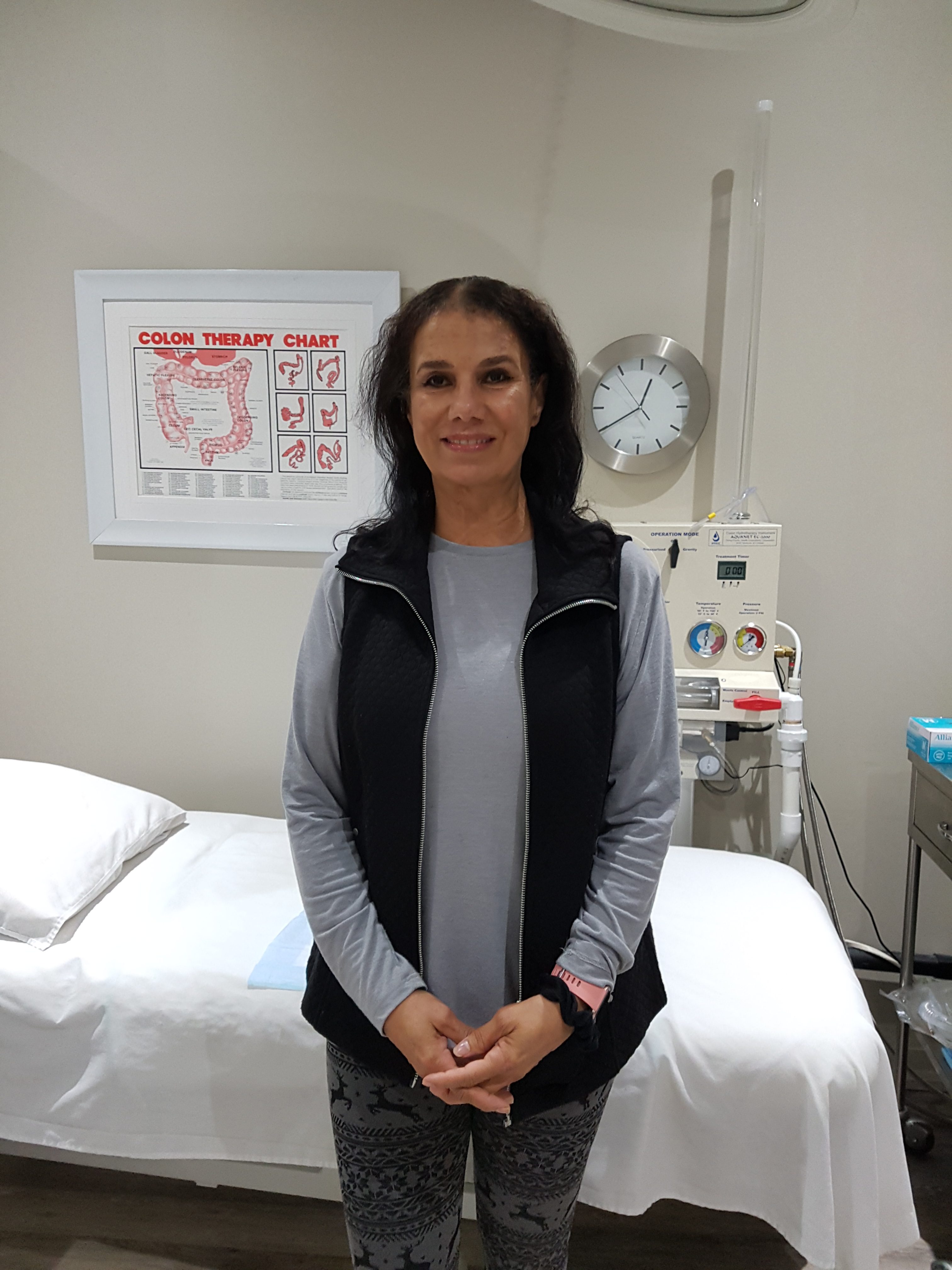 Cheryl McClendon
Youngstown, Ohio, U.S.A.
It is with great pleasure that I provide the Canadian School of Colonic Hydrotherapy offered by Mary Taylor a testimonial letter of reference for any person or persons considering a career in this field.
You will walk away feeling confident and knowledgeable, well informed and inspired! The classroom was "cafe style" small and intimate, pristine actually - with all students engaged along with the instructor. It felt personal and one on one. With every turn of a page, you had a true understanding/clarity of the contents. You will experience the clinical as well, with one another and with real clients. Mary Taylor is highly knowledgeable in this field, with a fantastic delivery method. Her course, accommodations and colonic center are incredible! You will not be disappointed – perhaps only disappointed in that you have to leave 😊
My motto has always been, "It's good to be American, we have choices"! In America if you don't like something, go down the street, there's always another choice! I can now say, "I'm American, it's great to have choices, and I chose the Canadian School of Colon Hydrotherapy offered by Mary Taylor! Guaranteed satisfaction! Thank you, Mary!
Cheryl McClendon, Youngstown, Ohio, U.S.A.