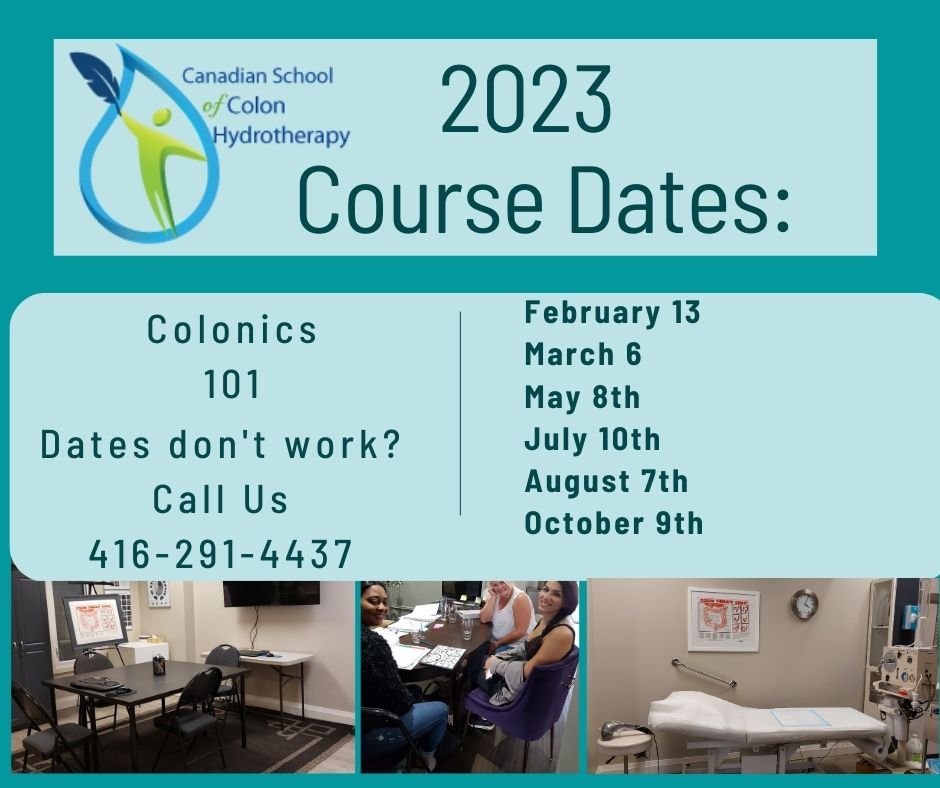 Training Formats:
Our courses offer training for a range of skill levels, from beginners seeking certification to experienced practitioners seeking continuing education, skill, and equipment updates.
Training is offered On-site (at our Toronto school).
Most of our courses may be available to you on-line – Restrictions may apply. Call us to see if you qualify for online training.
Certification Courses:
If you are new to this field and want to become a Certified Colon Hydrotherapist (start your own business or seek employment in the field). 
If you have some Colon Hydrotherapy experience with no certificate and want to improve your skills with additional training and get certification.
Professional Upgrade Courses:
If you are a Certified Colon Hydrotherapist, wanting best practices, skills refreshers, or equipment updates these courses are for you. Equipment training is available for anyone interested to learn the equipment. No certificate is given for these courses.
CERTIFICATION COURSES
---
INDEPENDENT PROFESSIONAL PROGRAM
(5-DAYS)
This certificate course covers all aspects of colonic training and business practices.
View full details
CLINICAL PROFESSIONAL PROGRAM
(4-DAYS)
This in-depth certificate course covers all aspects of colonic training that are essential for students seeking employment in a local Colonic or Holistic Healthcare Clinic. View full details
SKILLS & EQUIPMENT UPGRADE
(3-DAY)
This certificate training covers the latest Health Canada and FDA approved equipment. View full details
PROFESSIONAL UPGRADE COURSES
---
IMPLANTS & ENEMA TRAINING
(1-DAY)
This practical training focuses on implant and enema solutions. View full details
EQUIPMENT TRAINING
(HALF-DAY)
In this non-Certificate training, you will learn to use state-of-the-art EC-2000 equipment and the implant device. View full details
BUSINESS START-UP OR GROWTH TRAINING
(1-DAY)
Specifically created for Colon Hydrotherapists wanting to start their own business or attract more clients to their existing practice. View full details
CSCH does not have a vaccine mandate. However, we do require that all in-class students provide a negative COVID test from 2 days prior to the first day of class. Temperatures will be taken daily.
Ready to get started?
ENROLL NOW Get in touch and secure your spot
Have Specific Questions?
Let's Talk 416-291-4437 
Enter your questions, contact information and preferred availability below.
One of our team will reach out to schedule a phone call within 24 hours.
Privacy Concerns?
Filing in this form will NOT automatically add you to a marketing list.
We will NOT sell or share your contact information with anyone else.
Read our Privacy Policy